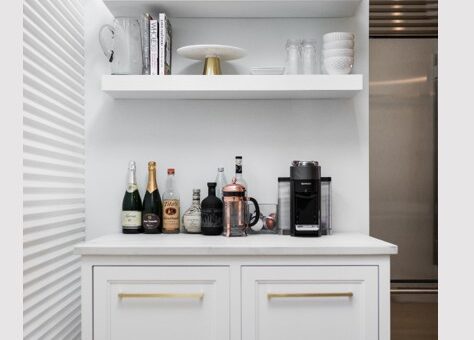 The Perfect Beverage Station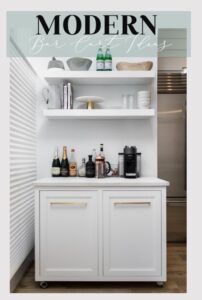 Looking for modern & useful ideas on how to store & display your favorite drinks from coffee to margaritas? Built-in bar carts, mini bars, and full wet bars are some of the perfect solutions for beverage stations using day to night drinks!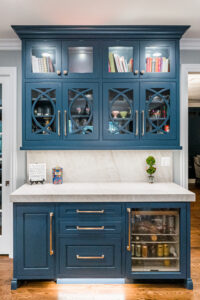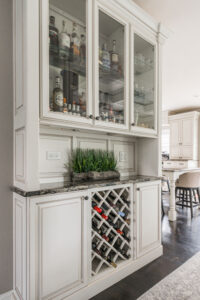 Some things to consider when planning your beverage station portion of your remodel…
Plan the placement in close proximity to your main areas of entertainment. These areas are typically in or near your kitchen, family room, or basement.
Think about how you want to use the space. Do you enjoy solo tea & coffee? Are you planning on entertaining guests with cocktails? Maybe both! Consider will this station be used by your whole family, or a set group of individuals?
Consider adding a beverage fridge. This is perfect for quick access to cream for your coffee or chilled drinks & mixers for your guests without using your main refrigerator (where you may have stinky left overs!)
Do you need additional running water? You might want to consider adding a small sink to your beverage station if you would find use in rinsing glasses or would appreciate the quick and easy access to water- all in one spot!
Storage. There are plenty of creative ways to store and display your drinks from floating open shelving, custom wine racks, to glass window custom cabinets.
Let there be Light! Proper lighting will illuminate the space effectively for those early morning or late night use. Lighting can also be used to create a focal point for displays . Under cabinet lighting and can lights are a great way to illuminate and enhance your station!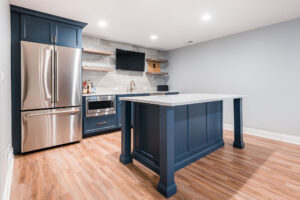 LEARN MORE:
Kitchens come in a variety of styles, shapes, sizes, and materials allowing for many options in providing you with the best solution to fit your remodeling needs. Beginning any home remodel takes time, design knowledge, and proper pre-planning to be successful. If you are thinking about adding a beverage station or wet bar to your kitchen, call Synergy today at 630-293-8070 or fill out a contact us form to learn more about our process and how our team of professionals may be able to help. View our kitchen photo gallery or follow us on our social media sites for more bathroom ideas and inspiration Facebook, Pinterest, Instagram, Youtube.