Our Work Is Recognized by Trusted Organizations
Synergy Builders is a well-respected, reputable design/build firm. We have earned many accolades and awards for the quality of our work, including:


The Daily Herald Business Ledger Best Places to Work
Synergy Builders has been named one of Illinois's best companies to work for based on employer benefits and policies in addition to employee engagement and satisfaction surveys.


Remodeling Magazine's Big50 Award
We were selected by Remodeling magazine as a winner of the 2008 Big50 Award. Each year, Remodeling recognizes 50 companies that have set the standard for professionalism and integrity through smart marketing, exemplary business practices, unique design and extraordinary impact in their communities or the industry at large.


Remodeling 550 Award Since 2009
Synergy Builders has received the Remodeling 550 Award each year since 2009. Every year, Remodeling magazine recognizes 550 remodelers in the country for significant and sustained success in terms of installed remodeling dollar volume, total number of years in business, industry associations and certifications.


The Chrysalis Award
Sponsored by Professional Remodeler magazine, the Chrysalis Awards showcase exceptional designs regionally and nationally. Synergy Builders has won multiple awards, most recently for a three-season room addition and a whole-house remodel.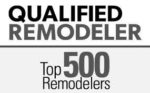 Top 500 Remodeler Since 2007
Since 2007, Synergy Builders has received the Top 500 award, the longest ongoing recognition program in the remodeling industry. Each year, Qualified Remodeler magazine recognizes the Top 500 remodelers in the country for installed remodeling dollar volume, total number of years in business, industry association membership, industry certifications, industry awards and community service.


Best of Houzz
The Best of Houzz award has two categories: Customer Satisfaction and Design. With more than 40 reviews and counting, we have won in the customer service categories since 2013!