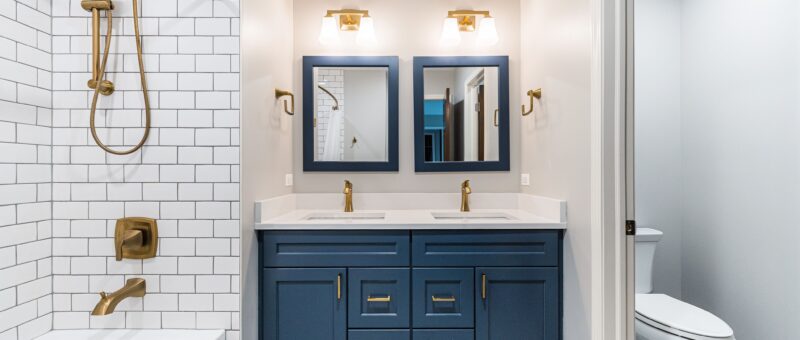 Between morning routines, bedtime routines, getting yourself ready, or helping your kids, your bathroom serves many big important functions in often small unfunctional spaces. If you're tired of battling your small bathroom space, check out these creative remodeling tips and tricks on how to maximize your small bathroom spaces!
Multi-use Bathrooms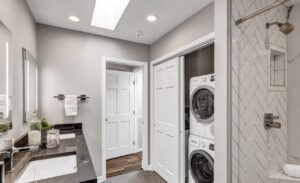 Sometimes our spaces are limited, but there are solutions to offset any spatial concerns! Creating a duel purpose space such as a bathroom that also serves as a laundry room might sound impossible, yet with a little creativity, this can be an efficient option! Installing sliding closet doors allows for the washer and dryer to be concealed without intruding on the space needed for the rest of the bathroom.
Exposed Sinks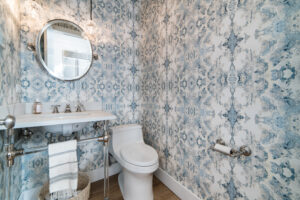 Having an exposed or floating sink creates an open visual and gives more space than a full cabinet or vanity would. Placing a trendy bin or box underneath the sink still allows for some storage of necessary household items.
Accent Walls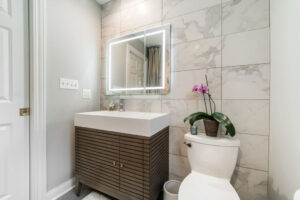 Wall tile or an accent wall gives your eye a focal point in the room creating depth and adding interest. This illusion tricks the eye into thinking there is more depth to the room than there actually is. Adding an accent wall also gives you the opportunity to be creative, fun, and express your style! Find a tile that incorporates colors, textures, shapes, or patterns that highlight other features in your bathroom to give off an organized and put together look.
Proper Lighting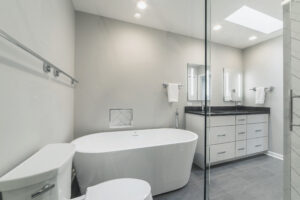 With proper lighting a once small and dark space can instantly feel & look grand. Proper placement of can lights, sunroofs for natural lighting, and lighted mirrors brightens the room while highlighting focal points. This lighting placement draws your attention towards important features across the entirety of the room rather than relying on the typical one vanity light to illuminate the whole space.
Creative Storage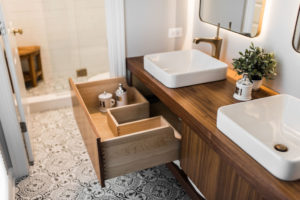 Take advantage of every storage opportunity! Unusual spots such as the awkward under-sink area, can actually be put to use with a little creative work. This drawer's U-shaped design accommodates the plumbing fixtures to make the most of storage conveniently holding extra toiletries near the sink area.
You don't have to have a huge space to be able to enjoy it! Small or average sized hall, guest, and master bathrooms can feel grand and look exceptional with proper lighting, layout, and material selections. With these tips and tricks, your small spaces can be visually appealing AND functionally efficient without adding additional space.
Learn More. Beginning any home remodel takes time and proper pre-planning to be successful before diving into construction. Whether you are thinking about a master bathroom remodel or a simple update on your hall bathroom, call Synergy today at 630-293-8070 or fill out a contact us form to learn more about our process and how our team of professionals may be able to help. View our bathroom photo gallery or follow us on our social media sites for more bathroom ideas and inspiration Facebook, Pinterest, Instagram, Youtube.